"When you have a product, you'd better really like the label," says Betty Bingham of Bingham Family Vineyards, "because you're going to see a whole lot of it for a very long time. Every time I look at a bottle of our wine, I'm thankful that we spent the time and money and worked with Bauerhaus Design."
The Bingham family has been farming in Meadow, Texas for generations. Current owners Cliff and Betty began when they married in 1981. In 1992 the farm became certified organic with the Texas Department of Agriculture. They grew mostly cotton and peanuts, rotating in black-eyed peas, sesame seeds, or whatever the market called for. In 2003 they planted five acres of grapes.
The decision started out as a practical one. As Betty explains, the water tables were dropping in the area and grapes need a lot less water than peanuts. Plus, there was a growing market for them with local wineries.
BRANDING A NEW CROP
Growing grapes was new to them but it was still farming. When they established a winery to make their own wine in 2014, however, they were in unfamiliar territory. "We had no idea what we were doing when it came to branding or marketing a product," explains Betty.
They found guidance at the Texas Wine & Grape Growers Association Conference. Rebecca Ritz, owner of Bauerhaus Design was speaking there. They hired her right away.
"I was apprehensive of the entire process of working on our brand," remembers Betty. "I had no idea what to expect, but it really flowed smoothly. Rebecca walked us through the steps and gave us the answers we needed when we didn't even know what questions to ask."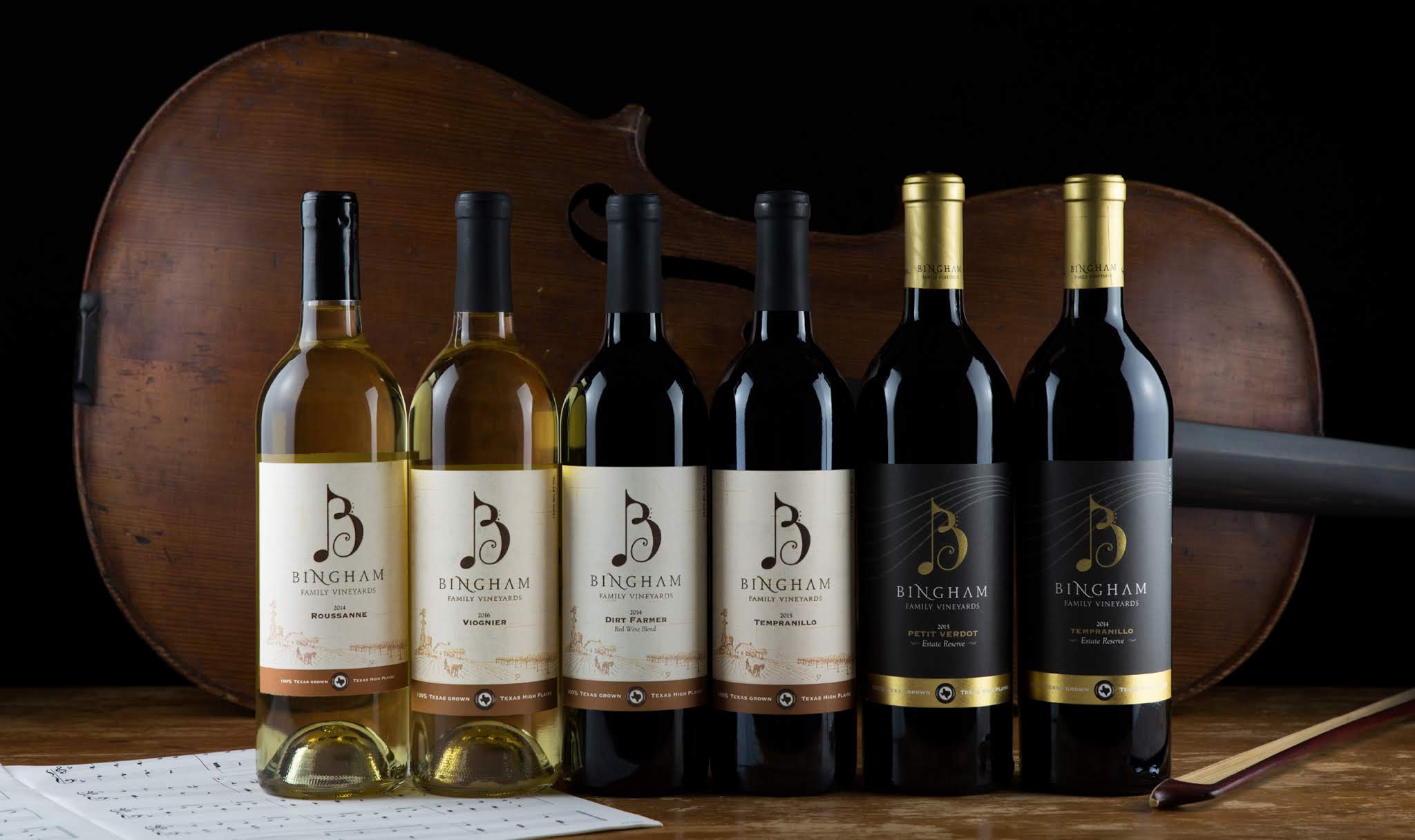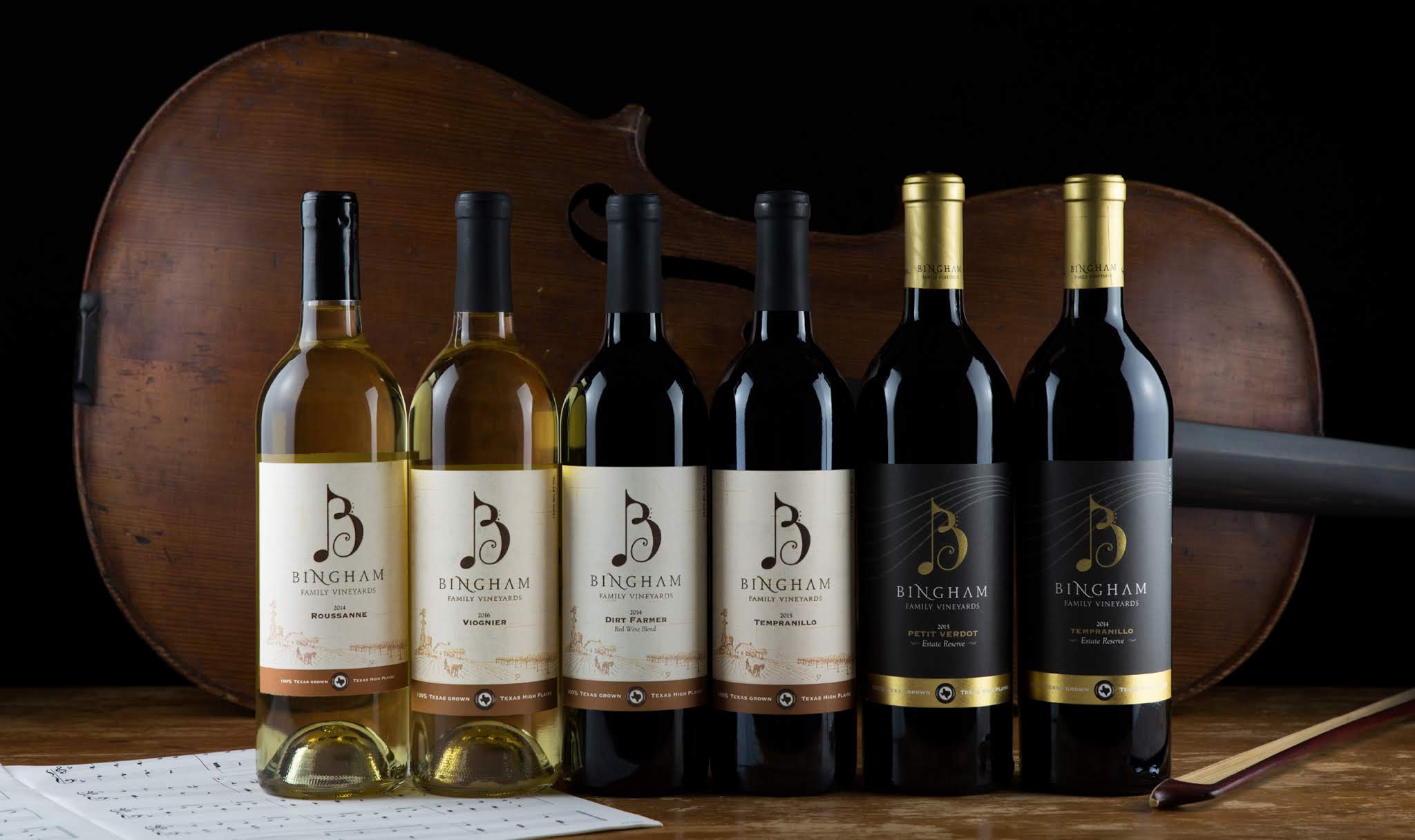 BAUERHAUS GETS IN TUNE WITH BINGHAM
By learning as much as she can about a client, Becca is able to zero in on what sets them apart. Her process always begins with an extensive questionnaire asking clients about themselves, their wine and winery, and what makes them unique. It's an essential part of designing a brand that will represent the winery's distinct personality.
The Binghams knew they wanted to communicate a joyful customer experience with their brand. In their initial conversations with Becca, the family focused on their love of art, music, wine, and food. It was around these aspects that they built their brand position.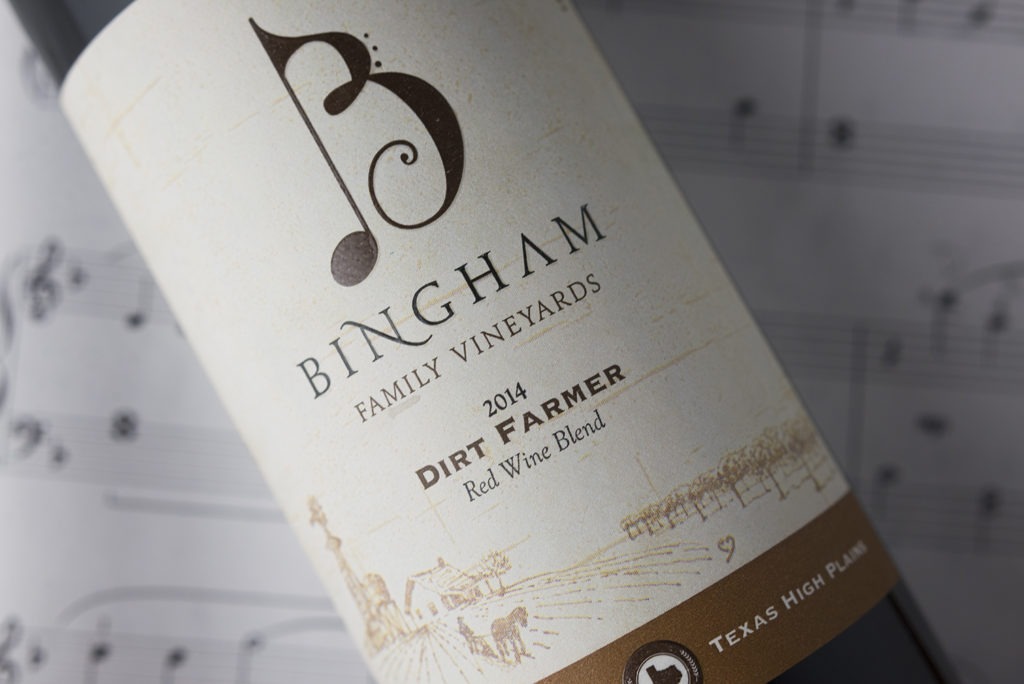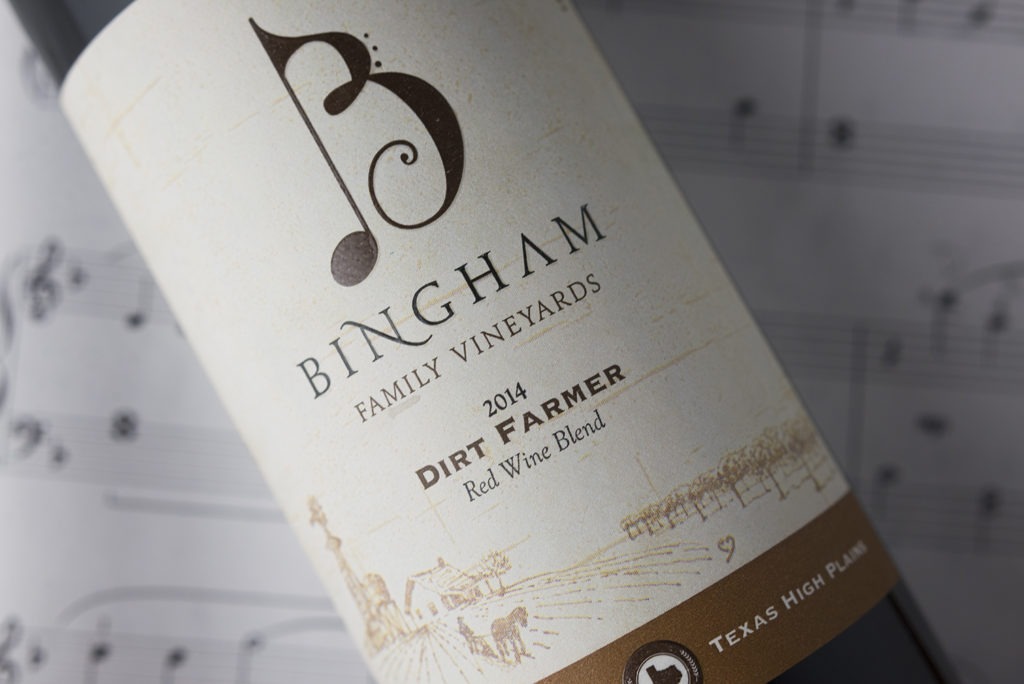 GROWING A LEGACY
First, winemaking is truly a family venture. Betty and Cliff have eleven children ranging from age 34 to 15. They've always encouraged them to choose their own paths but they've all worked in in the business at some point. "From the vineyard to retail sales, there's such a wide variety of jobs and opportunities," says Betty. "they each find the aspect they enjoy doing and find their niche." Some have studied Oenology and Viticulture and plan to make a career at the vineyard.
Music plays an integral part in the Bingham family. "With eleven kids, people sometimes asked Cliff if he was hoping for a baseball or football team," says Betty. "He'd say 'actually, I wanted an orchestra.'" Each member plays at least one instrument and they can often be found entertaining the crowd at the winery or one of the tasting rooms. It sets the wine brand apart from others – a winery with a musical family.
Last but definitely not least, is the distinctiveness of the wine. "We produce 100% authentic, estate wine. In Texas, that's somewhat unique," explains Betty. "Our 100% Texas grown grapes reassure our customers that they're exploring and enjoying the true taste of Texas High Plains wine."

A DESIGN THAT HITS ALL THE RIGHT NOTES
Becca was able to incorporate the family's passions into their logo and label. She transformed a musical note into a stylized capital "B," with the family name in a sophisticated font beneath it. On the label, a drawing penned by Cliff's mother Peggy Bingham is beneath the logo. Finally, a banner at the bottom of the label reads "100% Texas Grown / Texas High Plains."
"We're all so pleased with it," says Betty. "Rebecca was very patient with us. She's good about listening and adding little details while keeping to what was necessary from a design standpoint."
A BRAND THAT KEEPS PACE WITH ALL VENUES
In addition to the vineyard and tasting room in Meadow, the Binghams have a tasting room in Grapevine, Texas that is part of the Urban Wine Trail. In fall 2018, they will open their third location in Fredericksburg, Texas. They are partnering with Yee Haw Ranch Outfitters, a retailer that wanted to include an authentic tasting room at its new location.
It's important that Bingham's branding and image remain consistent across all venues. Each location – and a wine club – brings different customers and sometimes even different price points. Bauerhaus provides a Brand Standards Guide to its clients. It has all the information needed, such as colors, fonts, and specs, to use the logo for marketing purposes without having to call Becca every time.
A GRADUAL CRESCENDO
The Bingham's original five acres of grapes have expanded to more than 160 with ten varieties each of red and white grapes. Their production has increased steadily in the four years since opening. They use 10-20% of their grape yield for their own wine and grape juice and distribute the remainder to other wineries in the state. They still farm an additional 2000 acres of other crops.
Betty sees her children's range of ages as an asset for keeping in tune with the market as their target demographic changes. She once would have described their target market as baby boomers, but her thoughts on that has evolved. She's finding that Generation X and Millennials have an appreciation for their wine's authenticity and they enjoy interacting with the grape growers and winemakers.
The Binghams have learned that a strong brand strategy is essential to their success. They're confident that the recognizable logo and brand identity orchestrated by Bauerhaus Design will help their wine brand flourish for generations to come.