Boenker Hill Vineyard and Winery is a new winery that will open in Bridgeton, St. Louis, Missouri later in 2015. We first met owners Matthew & Jolynn Boenker a few years ago and spoke to them about their vision for a new winery. One of the last Missouri Centennial Farms in St. Louis County, Boenker Hill Vineyard & Winery has a Butterfly Garden, Manicured Grounds, a State Hill Top View, and convenience to all in St. Louis and St. Charles. Due to its long history, the property is loaded with vintage charm and 2 barns – one red barn that houses the new winery and a second rustic white barn that you see from the road.
Boenker Hill came to Bauerhaus Design, a full service wine marketing firm, to create a brand across both their WordPress website design and wine label design that were classic, yet showed off one of their barns where they plan to host many barn weddings.
Owner, Rebecca Ritz, a wine label designer and website designer, spearheaded the design portion. She presented three different wine label designs and barn illustrations to the Boenkers.  They ultimately chose this very traditional wine label design for their 8 wines: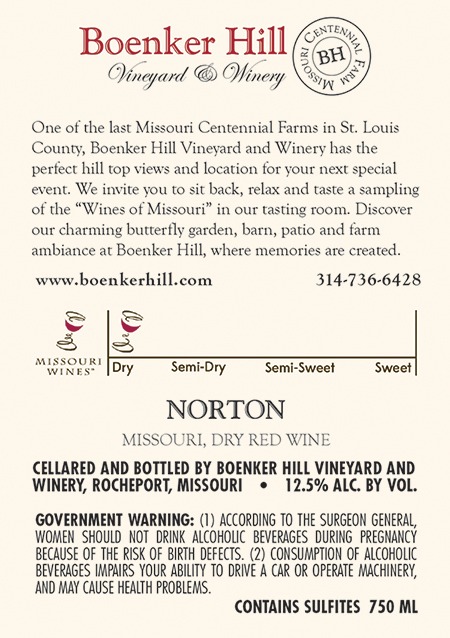 Often we talk about the front of wine labels, but often forget about the back. In the presentation I have given to several different wine associations, "How wine label design can increase your retail sales," I talk about how important the back is to communicate your brand message. For Boenker Hill, one of their major goals for their winery is to have a booming wedding business, so we included the text "perfect hill top views and location for your next special event."
Also on the back label, I created a "Missouri Centennial Farm" stamp to show their long farming history. We played up their focus on Missouri wines, by showing the Missouri Wine Sweetness scale and mentioning "Wines of Missouri" in the text.
Responsive WordPress Website Design
We also created their responsive WordPress website design, so their website would be easily viewable across iphones, tablets and desktops computers. Another words, no pinching and zooming in to try and read text or press links!
Three original designs were created and presented and they ultimately chose the design with a rustic wood background. They had their first outdoor wedding at their winery last fall and were able to get some great wedding photos that we used both on the home page and in their gallery. We incorporated the same barn illustration and colors from their wine labels, so their website would be immediately identifiable with Boenker Hill. Check out the new design and development at: www.boenkerhill.com.