We talk about the front wine label design all the time, but the back is often a hugely overlooked piece of marketing material. In the presentation I have given to several different wine associations, "How wine label design can increase your retail sales," I talk about how important the back is to communicate your brand message.
Yes, the back label is typically where the TTB requirements like the Government warning, Alcohol by Volume, and so on are located. But I'll let you in on a little secret – the back wine label is the PERFECT place to share your brand story and show how you are different from the competition.
Here are 4 strategies to make your "back" wine label design more effective:
Know who you're targeting
Who is your target market? Often when I ask clients that question, they reply with "All wine drinkers." The problem with that thought process is that there are actually different segments inside the wine drinking population. Paying attention to exactly who your customers are will help you create marketing campaigns that precisely target your niche.
For example, if your top wine buyers are "Image Seekers" they will check restaurant wine lists before they dine out so they can research wine scores online. If you want to appeal to this audience, make sure you reference outside reviews and wine scores on your website. Plus, know that Image Seekers are greatly influenced by packaging and design. Click here to read about the 6 different wine consumers.
Highlight what makes you different
If your competition includes the 10 wineries down the road and all of their winery "back" labels focus on the family history in wine making, pick a different focus. Every winery should be able to list the 1-3 things that make you stand out from your competitors.
Complete this sentence to help you think through what makes you different:
Only (your winery) delivers (unique differentiating benefit) to (target audience).
For example, on the below label our client Boenker Hill had a few differentiating benefits. One, it is in St. Louis and most wineries are not close to St. Louis. Two, they want to have a booming special event business so we included the text "perfect hill top views and location for your next special event."
They also have a long farming history that we highlighted by creating a "Missouri Centennial Farm" stamp. We played up their focus on Missouri wines by showing the Missouri Wine Sweetness scale and mentioning "Wines of Missouri" in the text.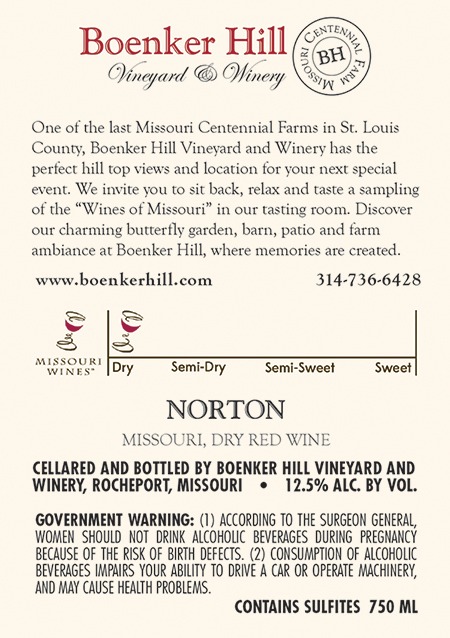 Include a call to action
A call to action can be for a website, social media links, or direct consumers to a video. Be creative. While I think QR codes are a thing of the past, you can still send people to a custom URL with a special message or educational or humorous video.
Below on Molly Dooker's Merlot, they include a call to action to the watch the "Mollydooker Shake Video" on their website. Great idea to incorporate video on a wine label!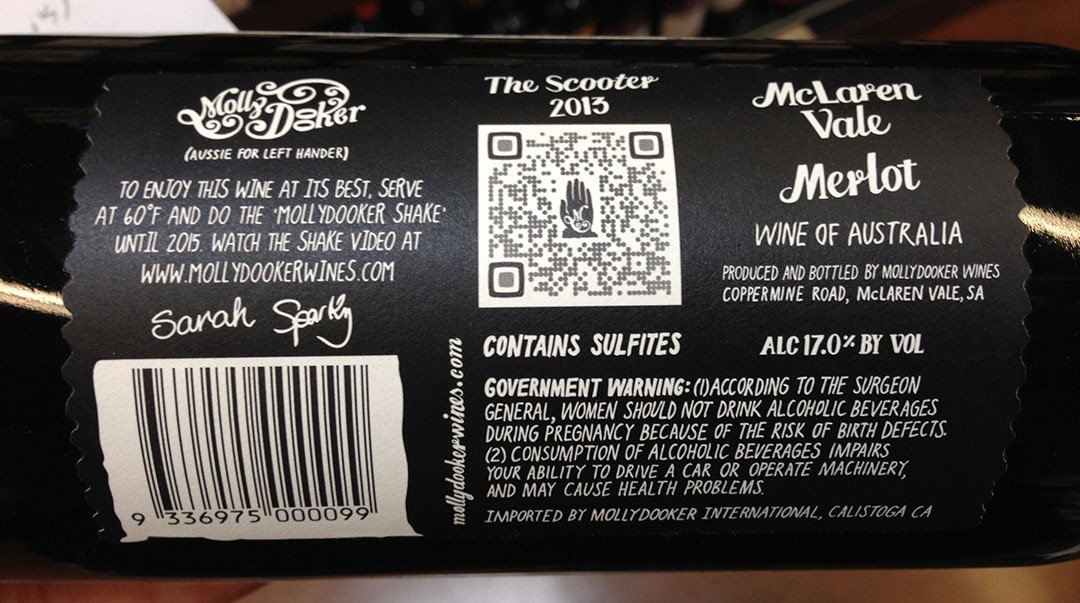 Admit it, you want to know what the heck a "mollydooker shake" is, right? Here you go:

Tell an unforgettable story
I often say that a brand story is important, because you may not remember what the winery owner looks like or what color the walls of the winery were, but you will always remember a good story. Why? Think about it – for thousands of years we were primarily storytellers. We did not have books to read or TVs to watch. It was all about the story.
Here are three examples of unforgettable stories. The first, New Belgium Wheat Beer, shows a great example of incorporating a hashtag and a social media photo contest onto a back label. The other two wine labels show off stories that are not your typical wine heritage or pairing label: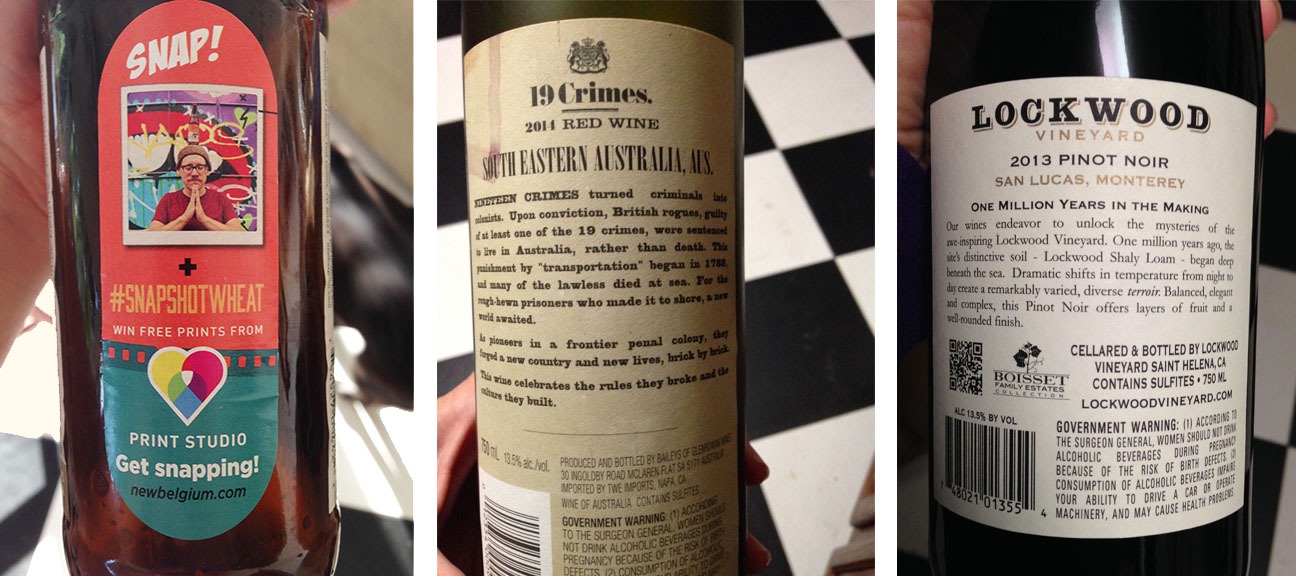 What does your "back" wine label say about your brand? Is it memorable? Does it stand out from your competition?