A little birdy told us you're starting your own wine brand. You've put so much hard work and heart into perfecting your craft, and now it's time to share it with the world. In our "How to Start a Winery Business" series, we've put together years of insights and learnings to help you transform your passion into a thriving business.
Part one of our series kicked off with the Top 4 Mistakes New Wineries Make. Part two tackled Starting Your Own Wine Brand and part three delved into Powerful Brand Positioning for New Wine Brands. Last month, we released part four, which discussed the importance of Creating a Brand Story That Connects.
For our fifth and final installment in our series, we're covering ways to build brand awareness and drive sales through a well-honed marketing strategy. Because the reality is, you could have the best-tasting wine ever created, but without marketing, you'll have no customers to pop the cork and enjoy it.
WHAT MATTERS MORE THAN TASTE?
There's one undeniable truth that you simply cannot ignore: the wine business is a crowded and competitive space. Shelves are teeming with delectable options for consumers to choose from. So, how do you attract your target customer and transform them into loyal supporters of your wine brand?
Did you know it takes an average of eight different touchpoints to convert a prospect into a sale? A touchpoint is an interaction between your winery and a prospective customer that's designed to influence buying behaviors and shape brand perception.
From social media posts and paid ads to your website and email marketing, each moment you create serves as an opportunity to shape the customer experience and drive profitability.
Marketing your wine brand is both an art and a science. The key is to leverage the foundation you've built – i.e. defining your target audience, establishing your unique value proposition, and crafting your brand story – to strengthen awareness, cultivate trust, and drive sales.
Here are 7 effective wine marketing tactics that can help fuel your success.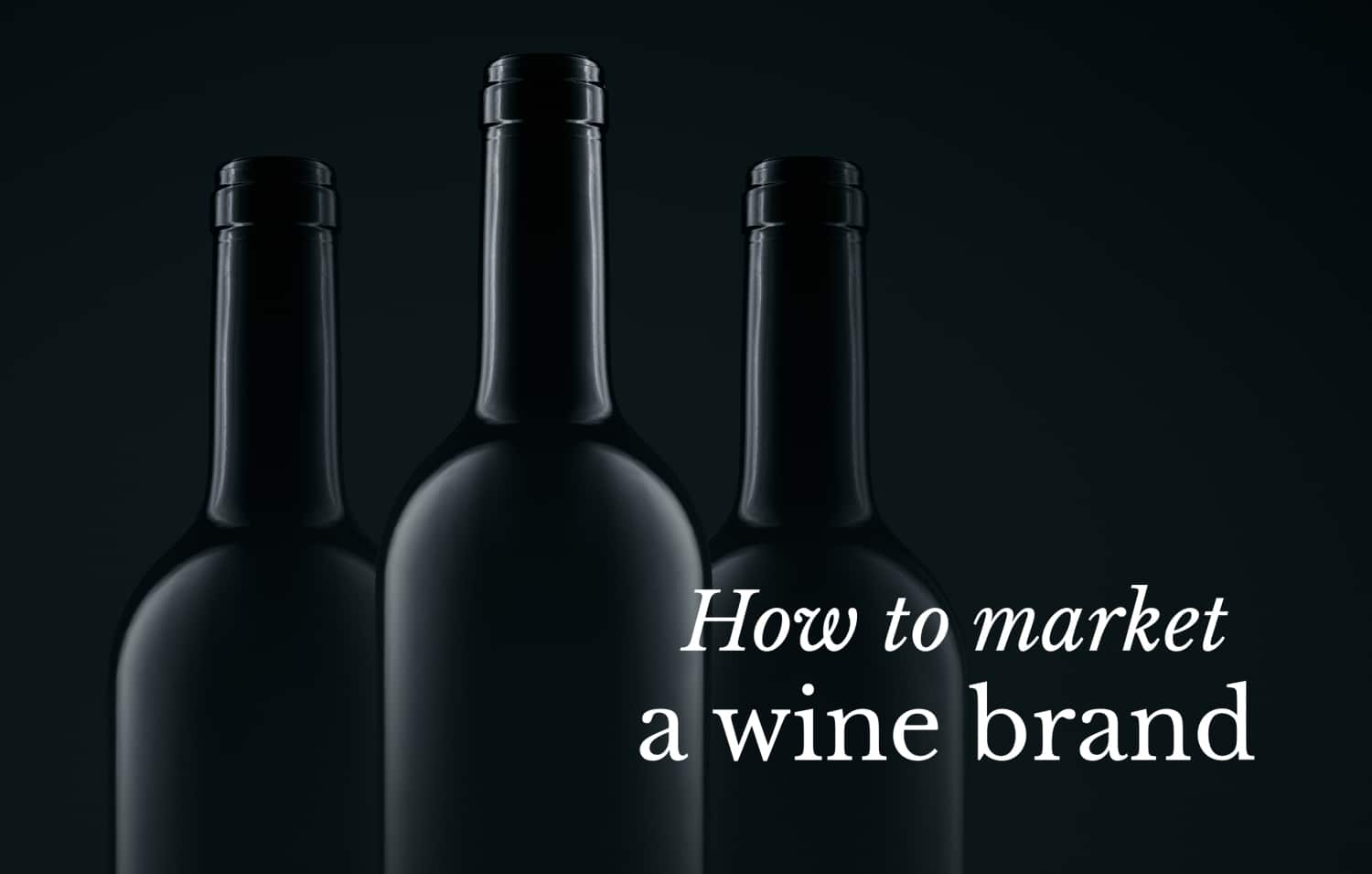 CREATE A WINE CLUB
In 2021, consumers spent upwards of $4 billion on wine shipments, which translated to over 8.5 million cases of wine! The takeaway: wine clubs are flourishing. Establishing a wine club will allow you to cultivate repeat business and enjoy sustainable growth (even in times of uncertainty, like the pandemic).
From discounts to members-only events, there are plenty of ways to attract and cater to potential wine club members. Don't be afraid to get creative. Because you can significantly increase a customer's lifetime value by converting them into a wine club member.
In fact, the average length of a wine club membership is 32 months. Instead of earning a one-time $100 profit from a tasting room visit or a couple bottles of sold wine, you could potentially expand that revenue into 2+ years of continued business by welcoming that customer into your wine club. It's simply impossible to ignore numbers like that.
LEAN ON CROSS-PROMOTIONAL OPPORTUNITIES
Today's consumers are savvy with both their time and dollars. To drive more customers to your winery or tasting room, consider teaming up with other local businesses. The collaborative effort is an effective way to increase brand awareness and sales while encouraging the community to support local establishments. You can utilize contests or discounts and promote offerings across platforms, like social media, to foster engagement and generate interest.
HARNESS THE POWER OF YOUR WEBSITE
Did you know your company's website has the power to influence buying decisions for 97% of consumers? From your strategic headline to a friendly user experience, your website is a powerful communication tool. It's an opportunity to highlight what makes your brand unique, as well as meet the needs and wants of your ideal customer profile.
The goal is to present a cohesive picture of who you are as a brand and deliver a level of value that ensures you'll leave a lasting impression on consumers. Leverage your design and copy to prompt visitors to take action – whether that be signing up for your newsletter, booking an event, or subscribing to your wine club.
ESTABLISH YOUR BRAND AS A THOUGHT LEADER
An effective thought leadership marketing strategy allows you to deliver genuine value and position your brand as an expert in the wine space.
The reality is, most consumers can't recognize the difference between a cabernet and another dry red wine. What pairs well with steak versus seafood? What's a go-to dessert wine people should keep stocked in their pantry?
Through influential messaging, sharing your "why," and providing your audience with valuable insights, you can build credibility and a loyal community of brand supporters. 
You can utilize your website, social media, and blogging to establish a library of content specially curated to address the needs, interests, and pain points of your target consumer. And by doing so, you can unlock new opportunities for growth and become a trusted leader within the wine industry.
SOCIALIZE AND STAY CONNECTED
Sharing your story and creating buzz around your wine brand requires you to get social. Based on your market research findings, you should concentrate on social channels where your target audience spends the most time. Get creative. Have fun with it. You have seconds to make an impact, so be intentional with your content.
Consistency in your posting frequency and messaging is non-negotiable. Why? Because it's an integral piece of driving brand recognition. 
Think about it: popular household names like Geico, Apple, or Nike are successful because they are instantly recognizable – from their TV commercials to their logos. As you build your wine brand, you can adopt the same ideology and ensure everything from the imagery you use to your messaging is captivating and consistent.
CONSIDER PARTNERING WITH INFLUENCERS
Piggy-backing off establishing a strong social media presence, another avenue to consider is employing an influencer marketing strategy. Not familiar with influencer marketing?
As Sprout Social perfectly puts it, "At a fundamental level, influencer marketing is a type of social media marketing that uses endorsements and product mentions from influencers–individuals who have a dedicated social following and are viewed as experts within their niche. Influencer marketing works because of the high amount of trust that social influencers have built up with their following, and recommendations from them serve as a form of social proof to your brand's potential customers."
Influencers aren't just A-list celebs that cost a fortune. Don't get us wrong, you can absolutely go that route. However, finding a micro-influencer that has an influential voice and a few thousand followers that fall into your target market can be just as effective. Utilizing an influencer marketing strategy provides a gateway for your winery to expand your customer base, share your message, and bolster sales.
PUT YOUR STORY FRONT AND CENTER
From your labels to your email marketing, always stay true to who you are as a brand. Your story is powerful – and represents a key differentiating factor between your winery and competitors. 
Exercising authenticity and leaning on your unique brand story will allow you to forge deep, emotional connections with your audience and immerse them in an experience. Shift your mindset and think beyond simply capturing dollars.
If you can engage consumers and appeal to their hearts and minds, you'll build a loyal community around your brand. Because, at the end of the day, customers want to connect with brands on a personal level – not just a transactional one. Speak to their passions and dreams. Embody a certain lifestyle. Help them overcome challenges and create moments that elicit genuine emotion.
MARKETING YOUR WINE BRAND
Your wine brand is a culmination of many parts – from your logo and packaging to your website and social media presence.
An effective marketing strategy ensures your values, origin story, and product show up for the consumer through every word, image, and experience you put out into the world. And getting it right can mean the difference between success and failure.
At Bauerhaus, we partner with wineries to help them establish a foundation for success through targeted marketing and brand strategies. That's what inspired us to build our Bauerhaus Brand Map – to provide your new wine brand with the roadmap needed to define what makes you unique and understand your customer, so you can implement strategies that'll drive revenue.
You have a great story to tell. And we want to help you tell it in a compelling way that doesn't get swallowed up in all the noise.
Ready to get started? Take the first step by contacting our Creative Director, Rebecca Ritz for a free 30-minute discovery call today.