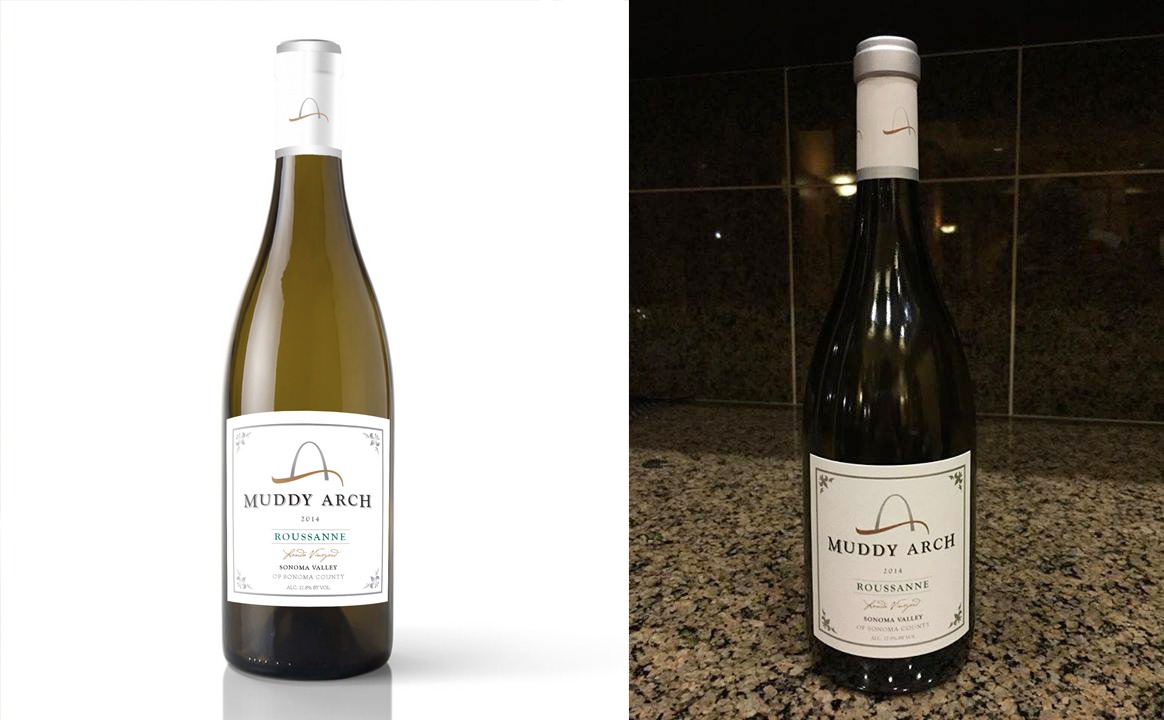 Muddy Arch has officially launched! Bauerhaus Design a full service branding, packaging and web development agency located in the Midwest, created the packaging for Leonard Wine Company. This wine company is made up of Tom Leonard, who is located in St. Louis, and his son, Chris Leonard, a winemaker in Napa, California.
This father and son duo wanted to pay homage to their hometown St. Louis with the idea of the "Muddy Arch" for their Roussane wine. Muddy Arch is currently at several restaurants in Sonoma and Napa, California and Chris and Tom are in talks with several St. Louis, Missouri distributors.
Part of the packaging process was also suggesting paper, foil, printing methods, plus designing the corks, capsules and front and back wine label design. Above left is the final approved design Bauerhaus created and on the right is the final printed label. Below are photos of the cork, label and capsules on the bottling line:
Often the best re-cap of what it was like to work on a project comes directly from my client:
Muddy Arch Roussanne labels have arrived fresh off the press!

I have been working with Tapp Label Company for many years at Napa wineries. Having confidence in their fine product we have enlisted their services to effectively communicate what lies within our bottles of wine. We are using a fine-grain textured paper with a flash of matte silver foil to capture an elegant presentation.
This goes without saying. Thank you very much to our Illinois based designer, Becca Ritz of Bauerhaus Design, for sending Tapp a beautiful design to print.

What Tom and I loved about working with Becca on this label is that she had a real interest in correlating her vision of powerful design with the creation inside the bottle. We dropped our first designer, based out of Napa, as we quickly realized the brand image our consumers would see was simply a gorgeous picture, but lacked continuity with what you would be drinking. We are thrilled to have gone back to our Midwestern roots to discover this great designer who understands both beauty and the need for consistency in brand identity.

We love producing these elegant, vineyard designate wines and feel that Tapp and Becca have done a beautiful job for us, capturing what lies inside the bottle.

-Chris Leonard
Bauerhaus Design is currently working on their website design and development. Want to know when you can purchase Muddy Arch near your location? Follow all the Leonard updates on their Facebook here.