Mark West, "America's #1 selling Pinot Noir," is a great example of a wine brand targeting a specific target market. How do they do it? What type of promotions do they do? And how do they launch a new higher end wine brand?

Did you miss the intro?
If you missed the intro on the 6 different wine consumers and who they are? You can read the full report  here.
Who is the Mark West wine brand?
"Mark West was founded in 1978 with one desire:
 To craft remarkable California Pinot Noir that delivers exceptional quality at an affordable price. With equal parts patience, hard work, and passion, we've followed our dream from vineyard to barrel to bottle, rewarded by knowing that Pinot lovers savor every glass just as much as we do. Totally devoted to Pinot."
Wine consumer: Image Curator
The below information is based on the Constellation Brands Genome Segments. (This post is part of a series on how six different wine brands target six different wine consumers. Read the Intro here.)
Status symbol
Are just discovering wine
Have basic wine knowledge
Like to be the first to try new wine
Open to innovative packaging
Prefer Merlot
Check restaurant wine lists online and research scores
Millennials and Males
Mark West Pinot Noir Strategy
Cost: $9.95
Competitors: Smoking Loon, Mirassou, Castle Rock, Cupcake
No winery location
Differentiates their Pinot from others by saying their Pinot Noir is the "#1 Selling Pinot Noir in the U.S."
$40 million in sales (according to below 2015 Movember video)
Packaging Design
Packaging design is a very important part of a wine brand's sales. Why?
According to the 2014 Gallo Consumer Wine Trends Survey, nearly 2/3 of wine drinkers selected a wine for its label – with emphasis on "younger consumers."
An even stronger reason?
Scientific research tells us that 90 percent of the information transmitted to the brain is visual and that human beings process images 60,000 times faster than text.
This means that our brain is making unconscious decisions about wine labels all the time. What is the perceived value of the Mark West packaging design?
As a wine label designer, the first thing that I notice about their label is the bright color, which typically signify a cheaper price.
Mark West Pinot Noir label also uses serif and script fonts on their label, a crest, foil printing, plus a very clear hierarchy of information. You read Mark West first, then Pinot Noir and then the Appellation. All of these cues unconsciously communicate this is a "traditional" wine, because it follows the same pattern that you see in old European wine.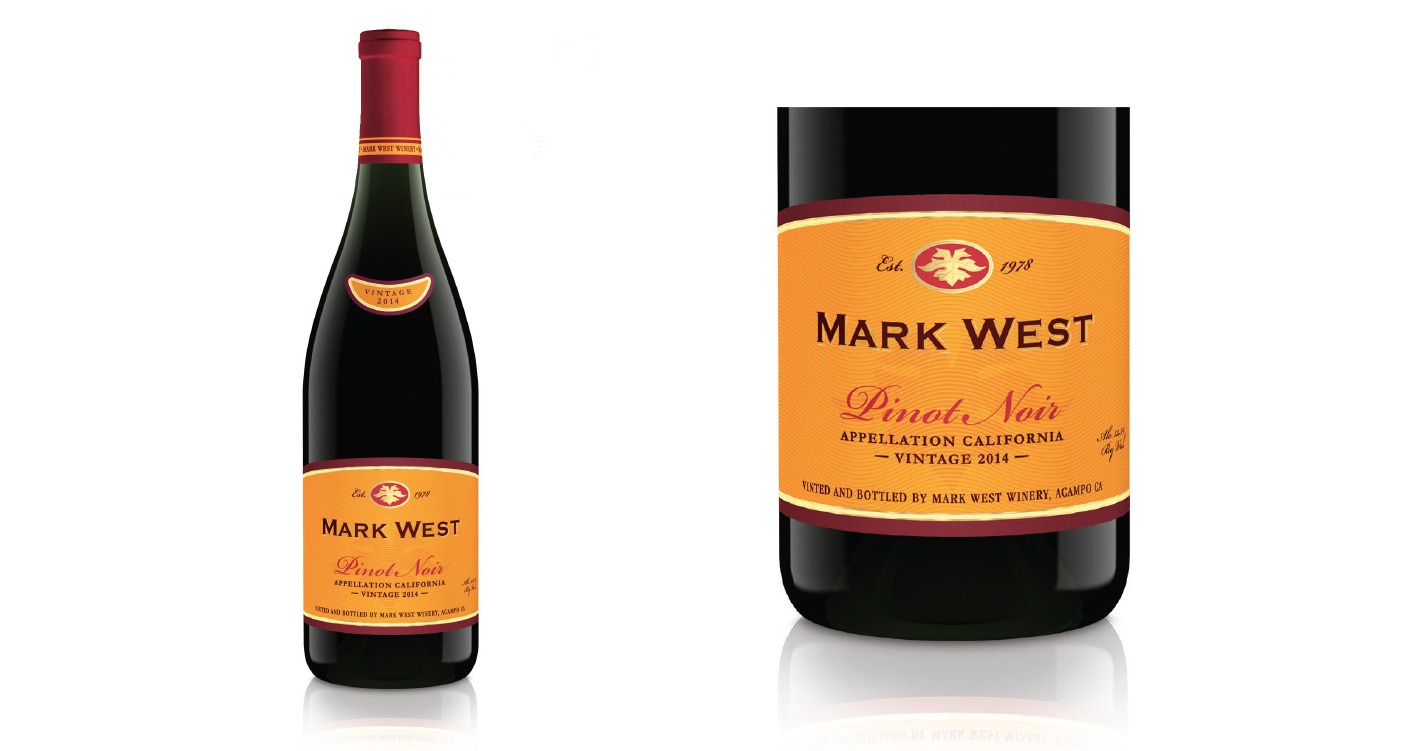 On the back of their labels they remain consistent with the front label with fonts, logo and color. They again continue their differentiation focus by saying "Mark West Winery specializes in Pinot Noir."
Promotions
What type of promotions do you create for Everyday Loyal wine consumer? Last fall Mark West ran a "Movember" promotion. Movember is an annual event involving the growing of moustaches during the month of November to raise awareness of various cancers, such as prostate cancer.
Let's look how this promotion worked:
Partnership for a good health cause – makes consumers feel good!
Primarily focusing on men that are younger
Used a custom hashtag #MyStacheMyPinot – very important for any promotion

Men's Health Magazine: print & online ads
In-store demo's
How does Mark West launch a new brand?
To launch their new Black Pinot Noir (price point $14.99), Mark West created this sexy video that I often share at speaking presentations. Notice how the video doesn't have any people or locations in it. It's all product, imagery and music and is a great way to create buzz for a new wine.
What else did they do for their launch?
They also created promotional events like an "experiential event held at New York City's legendary lounge, The Carnegie Club, where they paired the wine with cigars, chocolates and the smell of coffee beans." Read more here if you want the full details.
Their packaging design for this new brand matches their regular Pinot Noir packaging. Same fonts, crest, and logo with complimentary colors. Plus in the video they repeat their differentiation message as "America's favorite Pinot Noir."
Website
While Mark West does not follow the latest trends in website design (full screen imagery, navigation bar that follows you, etc), Mark West does a really good job of being consistent with their brand on their website. When you open their site, you immediately know you are on Mark West Wines website because of the color palette, fonts and photography. Here is their home page:
When they launched their Black Pinot Noir, they made the entire page black:
How can your wine brand be unforgettable?
Mark West did not start as a million dollar brand, but took steps that any wine brand can also take. They had a pin point focus on their target market, a strong strategy, and an unforgettable wine label design that created huge growth. The original owners, Purple Wine Company LLC, sold their 600,000 case Mark West brand in 2012 for $160 Million to Constellation Brands.
Need help creating an unforgettable wine brand?
As a full service branding and marketing agency, we provide a variety of services to help you build relationships with customers and sell more wine. Contact us to discuss your needs and we'll provide a free estimate customized specifically for your winery.
Next in the series we will discuss Uproot wines, who targets Millennials.
Save
Save
Save
Save
Save
Save
Save
Save
Save
Save
Save
Save
Save
Save
Save
Save
Save
Save
Save
Save
Save
Save
Save
Save
Save
Save
Save
Save
Save
Save
Save
Save
Save
Save
Save