Earlier this year, we worked with Bingham Family Vineyards, an adventure of music, children, grapes, and organic crops on the High Plains of Texas. They are opening their doors on April 24, 2015 in Grapevine, Texas.
A little more about their family:
"Cliff Bingham, a fourth generation farmer in Terry County, began full time farming in 1982. Since 1992, Cliff and his wife, Betty have served as pioneers in the Texas organic cotton and peanut markets. They diversified their farming operations in 2003 by planting grape vines. Together with their children, the Binghams currently own or manage over 200 acres of wine grapes in the Texas High Plains AVA. They are now pleased to be moving forward in the Texas wine industry by starting a winery. They plan to continue selling grapes to their winery friends across the state who are producing award winning wines as well as producing wine of their own under the Bingham Family Vineyards label. They are an ordinary family that has eleven children, homeschools, plays music, loves art, loves life, wants to take care of God's earth, and loves the Lord. They make a lot of mistakes, but they keep turning to God for inspiration, encouragement, and strength."
For inspiration of the Bingham Family Vineyards, one facet of their story really kept presenting itself over and over: Their love of music.
Bingham Family Vineyards defined their brand position as:
Bingham Family Vineyards is a multigenerational wine grower that promises the curious wine explorer a joyful experience through hand crafted wines, the fullest expression of the Texas High Plains.
Inspired by their love of music and their grape growing history I presented 3 different winery logo design options. From those three, they picked one and then spent time tweaking till we were both 100% happy.
The final winery logo design that was chosen is: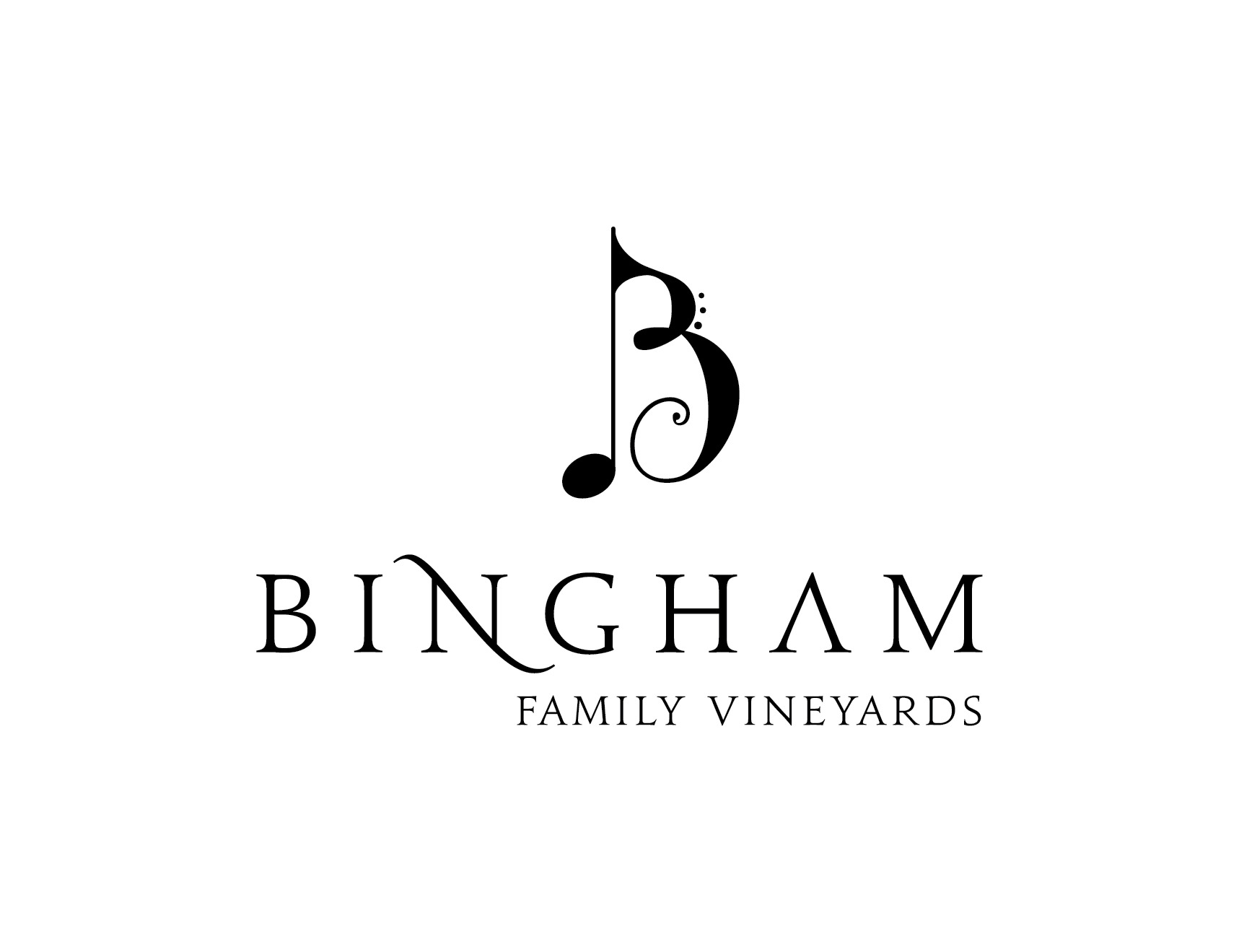 Next up, we worked on the Bingham Family Vineyards wine label design. Since we focused on the musical story of Bingham for the logo design, we really wanted to incorporate the farming history as well as promote "100% Texas grown." I again presented three options, with the family ultimately loving this option the best:
After this wine label design was chosen as the final direction, we set about to tweak small things. For example, Bingham provided me with a drawing similar to the label design drawn by Grandma Peggy Bingham, plus we changed the Texas wording in the brown bar. The final label design:
Many package design companies are all about showing off the front label design, but the back label is a great place to continue to tell your brand story along with details about each wine. Here is the Bingham back label:
Next I designed their email newsletter header and a brand standards guide. A brand standards guide has really helped many of my clients know how to layout the day to day marketing and design for their winery. This answers questions like – can I use my logo this way? How much space around my logo should I have? What type families and colors should I use on my marketing collateral?
Here is a sneak peak into what is inside: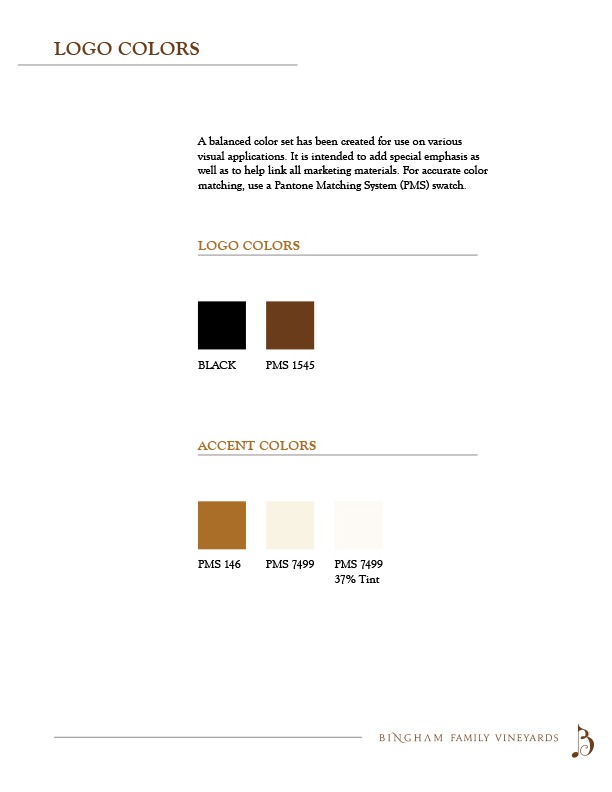 Are you starting a winery or need a brand re-fresh? Fill out my contact form with your project details and I'll get you an estimate.
To check out the hours, directions and read more about Bingham Family Vineyards wines go their website here.