We know every customer has an opinion, here is how one winery involved their customers.
Earlier this year we worked with Susina Plantation Winery on their brand strategy, logo design and wine label design. Susina Plantation Winery is a micro winery in Thomasville, Georgia, near Tallahassee, Florida. In 2002 the owner Randy Rhea planted a 3 acre vineyard with multiple varieties of Muscadine grapes and currently sells around 150 cases per year. His goal with this re-design was to bump up his $10 bottles to at least 300 cases per year. He does not have a tasting room, but instead relies on local liquor and wine store sales and also sells it by the glass at a few local restaurants.
When I presented owner Randy Rhea with three label options, he couldn't decide. So, he printed them out, applied them to a bottle and asked the customers in 3 local liquor stores to vote.
They showed the original label design:
Plus, the client showed the three new label designs for people to vote on:
Notice how the designs all have a similar design? Originally I presented 3 different designs, but since the client was going to have people vote on the final designs we needed to make sure:
The client loved all three designs.

Design tip for contests: Never show designs you don't love for people when asking customers to vote.

All three designs included the brand strategy that we developed:
There are three basic wine business strategies that have been most successful with wine brands. For Susina Plantation Winery we suggest focusing on the place and showing off the Susina Plantation Big House.
Highlight it is a sweet wine, with a stamp that looks historical or a color call out.
Include text on the front or back that emphasizes their love of Georgia history, which is why the current owners purchased and renovated the Susina Plantation Winery to its former 1841 glory.
Proud to grow and produce sweet Southern Georgia Muscadine wine.
We followed this strategy by creating a one color illustration of their plantation home, using copy that says "grown and produced in Georgia" and using bright colors to show the sweet Muscadine flavor profile. Each of the 5 wines will be a different color palette.
Next they set up contest details in 3 local stores, plus posted information on Facebook and their email newsletter: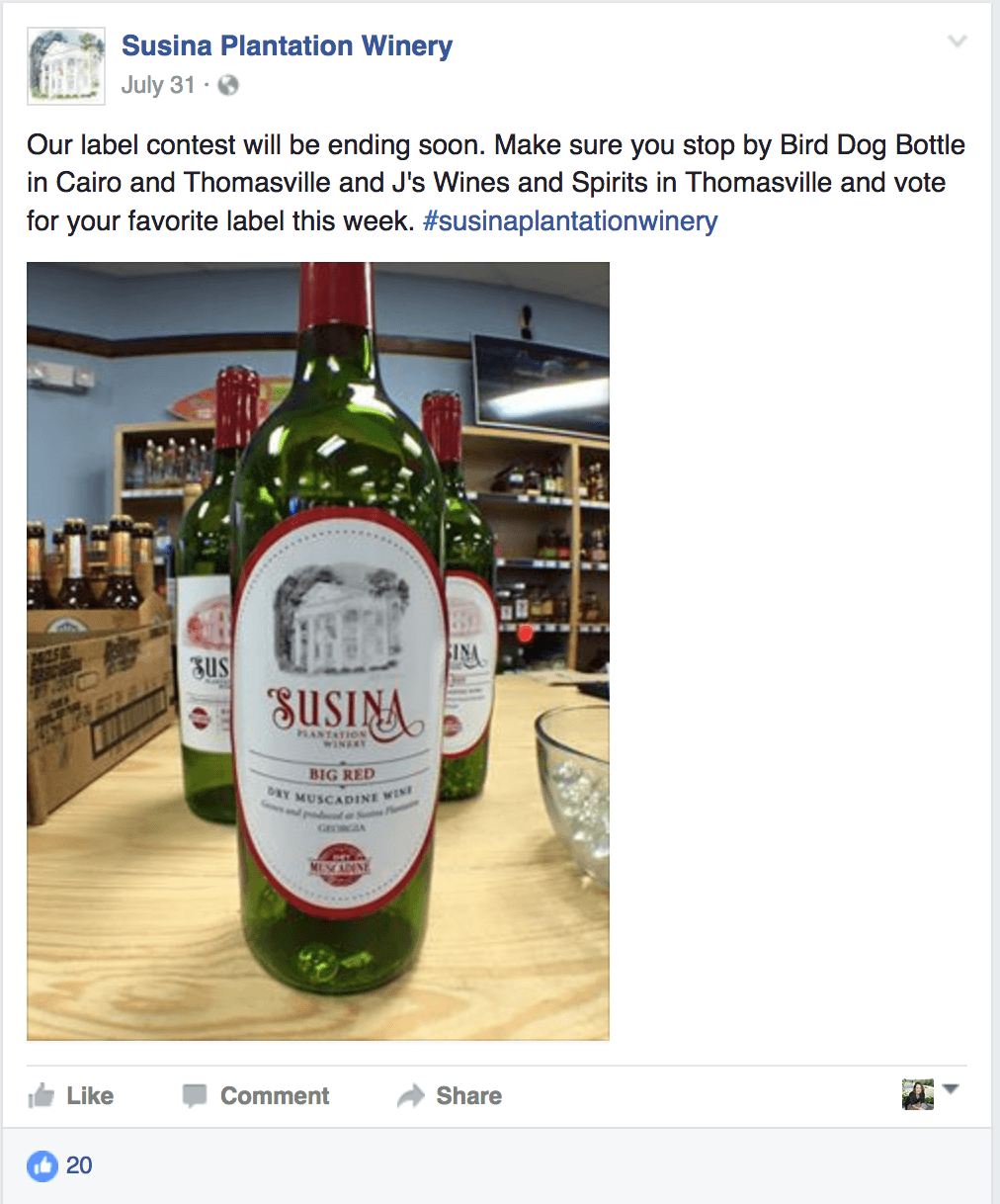 They then announced their final label design and winner with a live Facebook video. Great idea since we know that video can produce 70% more conversions than other media.
Save
Final piece social media post was showing the winner of their contest and the winning wine label:
Do you want to grow your wine sales?
Packaging design is a very important part of a wine brand's sales. Why?
According to the 2014 Gallo Consumer Wine Trends Survey, nearly 2/3 of wine drinkers selected a wine for its label – with emphasis on "younger consumers ."
An even stronger reason?
Scientific research tells us that 90 percent of the information transmitted to the brain is visual and that human beings process images 60,000 times faster than text
This means that our brain is making unconscious decisions about wine labels all the time. How strong is your wine label design? Is it unforgettable?
Bauerhaus Design provides full branding services including identity design, packaging and support collateral for small to mid-sized wineries. We also offer a host of marketing services to help your winery fill the gaps from strategic marketing plans to social media management! For a free estimate customized for your needs, please contact us.
Save
Save
Save
Save
Save
Save
Save
Save
Save
Save
Save
Save
Save
Save
Save
Save
Save
Save
Save
Save