Xo,G isn't shy about targeting a specific target market: Moms. How do they do it? What type of social media promotions do they do? What type of content on their website? Let's dive in –>
Guiliana Ranic created a wine brand called Xo,G that makes it easy for moms and other women to have just one glass of wine.
3 Examples
This post is part of a series on how three different wine brands target six different wine consumers. Read the previous posts here:

Intro: How 6 different brands target 6 different wine consumers
Part 1: How Mark West targets everyday loyal wine consumers
Part 2: How Uproot Targets Millennials
Who is Xo,G wines?
Xo,G wines was created by celebrity and avid wine lover, Giuliana Rancic. Xo,G focuses on mom's that having that glass of wine after the kids go to bed to help them relax. To reclaim their sense of self, separate from their mom identify. To relish a moment of invaluable "me time" that doesn't involve arranging for child care and paying for an evening out.
XoG Wine Strategy
Wine consumer: Price Driven
Target Market: Mom's
Differentiation: packaging & target market
Cost: $9.97
Sold at Walmart nationwide and online
Wine Consumer
If we are looking at the 6 types of wine consumers, I would pick this one for Xo,G wines because of the price point and that they are mainly sold in large stores like Walmart:
Price Driven
I believe you can buy good wine without spending a lot
Price is top consideration
Shop in a variety of stores to find the best deals
Use coupons & know what's on sale ahead of time
Typically buy a glass of the house wine when dining out, due to the value
Logo Design
The Xo,G logo is made up of a font that looks like Giuliana's signature and Xo,G literally looks like every glass of wine is signed with hugs and kisses by her. A casual script font also shows to the Mom target market that this is not a "stuffy" wine brand that you need help decoding.
Packaging Design
According to the 2014 Gallo Consumer Wine Trends Survey, nearly 2/3 of wine drinkers selected a wine for its label – with emphasis on "younger consumers."
Xo,G wines takes advantage of this fact by first having a very innovative type of wine packaging with 4 individually wrapped stacked wine glasses. As an added bonus, the package was cleverly designed to appear gift-wrapped, which makes this wine brand the perfect gift for her girlfriends!
Website
Since this wine brand does not have a physical winery location, their website is hugely important in communicating their brand story. Their website does a really good job of breaking down how they are different and who they are targeting with a page called "A New way to wine." This is a great example of how any winery can list their differentiation on their website. What do you want to be known for? Create a page like this:
On this page they show the "One glass at a time" graphic:
Plus a note about their premium wines, how you can take it with you since it is not glass, and the below "Waste not, want not" graphic – where they focus on not wasting a full bottle if you just want one glass:

Since Xo,G wines is a national brand, they also have on their website an easy store locator to find their wines: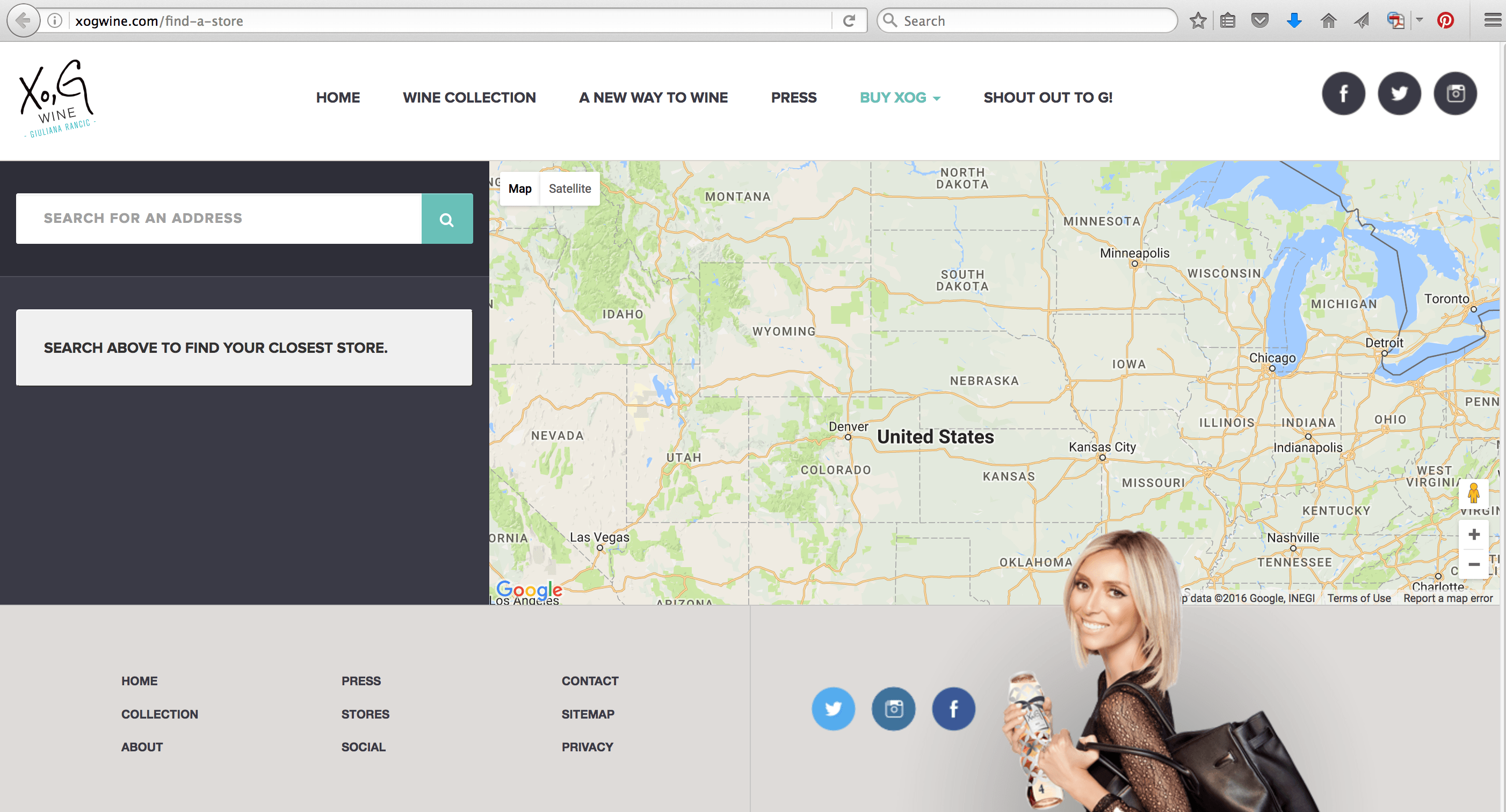 Social Media
So how does Xo,G wines leverage social media to build strong relationships with "wine moms?" Xo, G wines does a great job with Instagram. Their content is relevant to their target audience and holidays, like this one:
They stay on brand by showing images of one glass at a time, while relaxing with a book:
And they show images of upcycling like this one. Recycling is a key issue for younger Millennial wine consumers.
We always recommend that our clients create posts that inform, inspire, or entertain. For example, this post pairs their wine with flowers, wine napkins and the quote "I save my carbs for wine. It's called priorities."
How can your wine brand be unforgettable?
My first piece of advice to any wine brand is to be clear who you are targeting and have a strategy in place. Xo,G wines is not afraid to focus on their target wine consumer and you shouldn't be either. By focusing on one wine consumer, it will become clear which type of design to use on your packaging, how to design your website and what type of social media you should be using. The key is having a focused target market and goals.
Need help creating an unforgettable wine brand?
We are wine moms so we are this target market. As a full service branding and marketing agency, we provide a variety of services to help you build relationships with customers and sell more wine. Contact us to discuss your needs and we'll provide a free estimate customized specifically for your winery.
Save
Save
Save
Save
Save
Save
Save
Save
Save
Save
Save
Save
Save