I've partnered with social media guru, Kristy Meyer on a few presentations in St. Louis and we always have a great time together. Fun fact = playing volleyball with Kristy is how I met my husband!
Kristy is taking a big step this year creating a new business called Online Bridge. Kristy says "At Online Bridge, our ultimate goal is making social media an effective, accessible medium for our clients. We fully partner with our clients to understand their goals and target audiences, then develop a comprehensive marketing strategy that is measurable and manageable. Whether Online Bridge is managing your campaign for you or educating, training and empowering your team, we will make the process simple and easy to execute from start to finish."


Her vision for her new brand? A balance between her marketing background in the science industry and the other side of her that teaches yoga. Think Excel meets aura's. For instance, when we talked about color she wrote "I really love the colors of Mardi Gras. I also love calming blue palettes and spicy red." If Kristy's brand were a car, she would describe it as "The International Scout with a detachable roof. Because it's old, durable and cool, and stands the test of time. Room for everyone to come along and removing the roof makes for a fun ride when the weather is nice, but is rugged and can help you get through the mud and potholes that come along the way." Her take on her brand? She wants a brand that shows it is stable and will guide her clients through the often scary and complicated realm of digital marketing.

First I presented her 3 black and white logo options. She ultimately chose: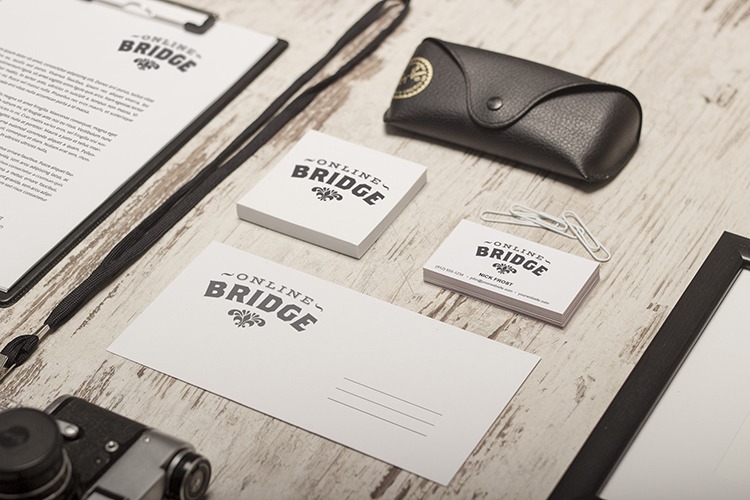 Then we talked color. Kristy was intimidated by all of the color choices. We decided to meet and once I arrived, I realized she was actually wearing the perfect color scheme.  The red and blue balanced her vibrant personality with her calming side. I then designed her business card:
Lastly, I also created two email newsletter headers for Online Bridge:
The best idea of what it is like to work with me, is best told by my clients. Here is what Kristy says about working with me on creating her brand:
Rebecca Ritz is so amazing at what she does.
While I have a number of skills, keeping my cool while having a new look created is not one of them. My brand is brand new, and I'm so nervous about putting it out into the world that I need a steady hand, kind words, and exceptional skills in guiding me to the right colors and images to convey what it is I love to do for clients and students. She did this by guiding me through a number of questions about my business, likes/dislikes, and the types of clients I want to draw in.
Enter the amazing, Rebecca. She patiently helped me through my confusion and indecision. When I got confused about colors, she asked all the right questions and helped me to choose a palate that I love and doesn't blind my web visitors (which could definitely happen if I have control of the color scheme!). Now, I have a new look to unveil that is cozy and supportive to the needs of my social media clients.
– Kristy Meyer, Owner of Online Bridge
Want to know more about Kristy? Follow her on Twitter here or like her on Facebook here.