For one tiny peanut butter company, the path to success was fast and furious. What started as a farmer's market side hustle quickly became a viral trend in large part because of spot-on market research and stellar branding.
An article in The Hustle outlined exactly how the couple who founded Nerdy Nuts created a powerhouse brand and marketing strategy, and then found a way to adapt.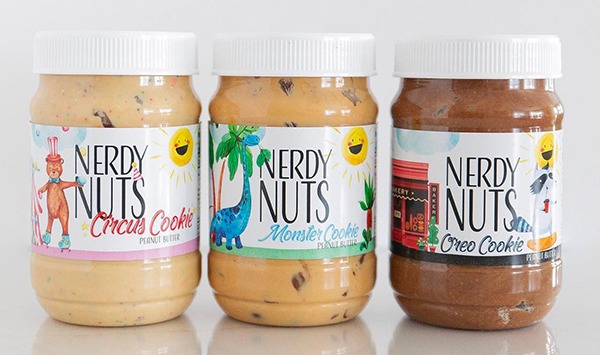 Here are five key lesson's from their story about launching and leveraging a direct-to-consumer brand.
1. Know your uniqueness
Craig Mount and Erika Peterson started making flavored peanut butter in small batches and brought their product to the local farmers' market. There, they spent hours every Sunday talking directly with their customers.
Through simple conversation, they learned a lot about what their customers wanted from and loved about peanut butter. As the couple began thinking about how to scale, their market research complimented their experience with customers: They prioritized knowing their uniqueness in the industry.
"Through his research, Mount learned that nearly 60% of the $1.9B US peanut butter market is controlled by 2 companies: the J.M. Smucker Company (which owns Jif) and Hormel Foods (Skippy). But he also compiled a list of 127 smaller players, including direct-to-consumer (D2C) brands, and saw a trend: Most were marketed as 'healthy' or 'keto-friendly.'
He decided early on that Nerdy Nuts would focus more on flavor and fun."
Knowing exactly how Nerdy Nuts would stand out from the rest gave the founders a strategic edge. They had a clear direction and knew just how to spend their resources — first and foremost, on great branding.
2. Establish an unforgettable brand
Convinced that Nerdy Nuts could be the "Ben & Jerry's of peanut butter", Mount decided to double down on quirky marketing; inspired by a campaign Airbnb did, Nerdy Nuts came out with four flavors based on the 2020 presidential candidates.

3. Partner up
At first, Mount cold-emailed over 200 reporters until they landed a feature on the national talk show The Five. "In the first 48 hours after the segment aired, the tiny company made $20k in sales." 
Their overnight success compelled the couple to shift some manufacturing processes around, and they called on friends and family to help them meet the new demand for their product.
The lesson here: Whether it's for PR or production, sooner or later, you don't want to go it alone.
4. Find your audience
With an established brand and a taste of virality, Nerdy Nuts was getting a good sense of who their customers were and what they wanted: flavor, fun — and an experience.
Wanting to take things to the next level, Mount had the idea to test out peanut butter "product drops."
"Supreme clothing, or [Adidas] Yeezy sneakers, have these limited edition drops all the time," says Mount. "I thought, 'Why not do the same thing for peanut butter flavors?'"
The drops worked, especially when they acted on another great marketing idea: to partner with TikTok influencers.
"Astonishingly, videos posted by the TikTokers generated millions of views, resulting in 5,947 sales, and setting off a snowball effect. Nerdy Nuts sales ballooned to $165.2k for the month of July. "
5. Leverage sales psychology
Every step of the way, Nerdy Nuts garnered and leveraged social proof: becoming popular at the farmers' market, getting featured on national TV, and tapping into the trust and familiarity that social media influencers cultivate with their followers.
Facing a huge backlog, "Mount and Peterson scrambled to expand:
They bought 17 more PN1 peanut grinders.
They hired a part-time staff of 25 people.
They took over the lease at the kitchen they were sharing.
They paid someone from O'Dang Hummus $9k to "deconstruct" their product line and optimize production to 4k jars per day."
Nerdy Nuts embraced scarcity with Supreme-style product drops. After their wildly successful pairings with TikTok influencers, they began to repeatedly sell out — and embraced the idea of scarcity even more.
Nerdy Nuts decided to close its site and only open up sales one day per week, creating a lucrative feedback loop. Naturally, the real and perceived element of scarcity creates urgency for consumers: when a limited product is going to sell out, the buying experience becomes something different entirely.
Understanding and embracing sales psychology can be a powerful component of a marketing strategy, especially for direct-to-consumer companies.
More than ever, branding plays a starring role in a company's success. Consumers often want more than a product — they want the emotional and social experience that comes with it.
Creative storytelling, unforgettable branding and a good marketing strategy can go a long way, especially for a direct-to-consumer product.
At Bauerhaus, we offer all of it: Packaging, storytelling, strategy and social media. Schedule a call with us to discuss your branding and marketing strategy.